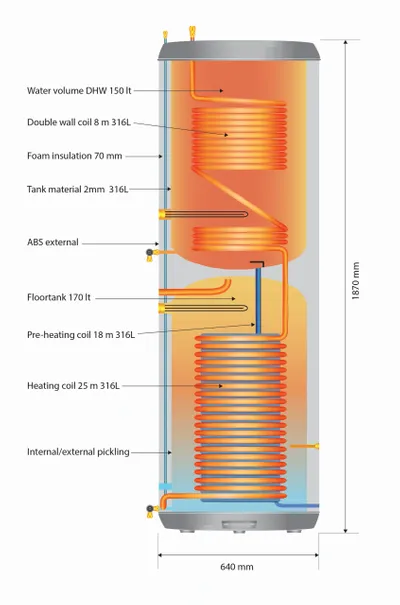 VP150/170L
The Polar Energi VP150/170L multi system tank is the most popular choice for domestic applications. Connected to a Panasonic 7 to 14kW outdoor unit it will provide 150 litres of 80 degree domestic hot water (tap water) and 170 litres of 50 degree central heating water. The system is so efficient, the DHW is blended to a lower temperature for safety on leaving the tank. This means that over 400 litres of hot water is available on tap before the temperature would drop below 40 degrees. The VP150/170L is the ideal solution for most domestic requirements for hot water and underfloor heating. Some radiators may also be linked to the system subject to sizing requirements.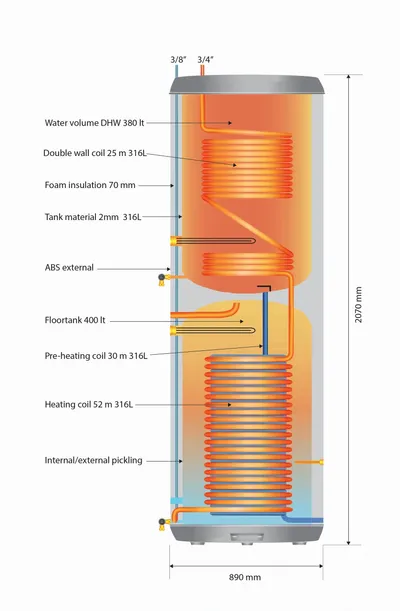 VP380/440L
For extremely large domestic or commercial applications requiring a multi system tank, a VP380/440 linked to a 14 to 28kW outdoor unit fulfils that requirement. Two VP380/440L multi tanks can also be linked together using one outdoor unit giving a heating capacity of up to 71kW.
A VP380/440L holds 380 litres of high temperature DHW and 440 litres at 50 degrees for space heating. This equates to an incredible 1200 litres of DHW before the temperature drops below 40 degrees. 
For large installations, a VP380/440L linked to a 3 pipe VRF air conditioning system can divert extracted heat from commercial space providing hot water using energy that would otherwise be wasted.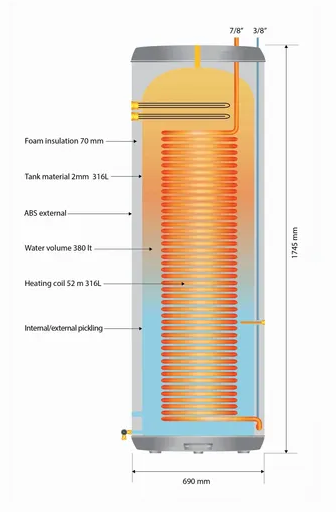 VP380L
If high temperature DHW is not required, the VP380L is a single tank (as opposed to the split, multi system tanks), providing 380 litres of hot (65degrees) or chilled water. Multiple VP380L tanks can be linked together to tailor supply to the requirements of any client. It can also be used as a replacement for an oil or gas boiler for central heating where radiators are the primary source of room heating. In this circumstance, heating water can also be branched through the DHW tank, to warm the tap water. Although because this configuration will not heat the DHW to the same temperature as a multi system tank, additional heating in the DHW tank may be required.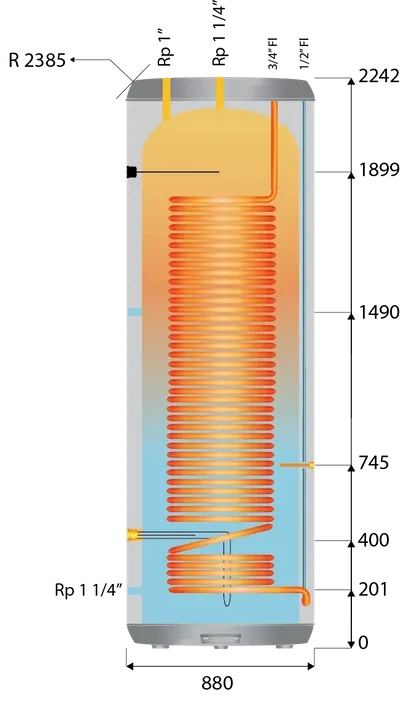 VP200L, VP500L, VP750L, VP1000L
In circumstances where DHW only is required, a range of tanks are available for achieving up to 75 degrees hot water. Primarily aimed at commercial applications, they are available in 200 litre, 500 litre, 750 litre and 1000 litre sizes. 
Additionally, these tanks can be linked together, or used in conjunction with a buffer tank, to ensure any DHW requirements are met for large scale applications. (VP1000L tank pictured).
Polar Energi tanks can be adapted for a variety of domestic and commercial applications